Japanese page is HERE
Ver.2019-1.30 (Updated 2019/11/10)
W32TeX: No more distributed
Windows XP/Vista/7/8/8.1/10 compatible
Updated files: Please use these files to replace the corresponding files
Windows 8/10 Security (Figures are the Windpws 8 examples)
For Windows 8/10 users, when you execute our installer contained in a zipped file, which is just downloaded, Window 8/10 blocks the installation by showing

"Windows protected your PC".

This message further brings you to press [Run anyway] in a subsequent message that appears by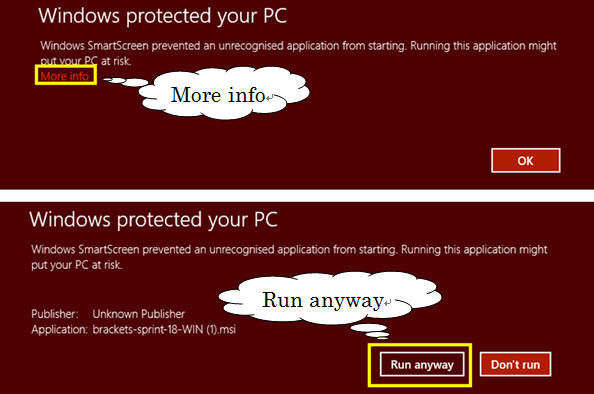 This message may not show up if the downloaded file is moved to other folder before it is executed.,
Error in Norton SONAR
Fatal Error in Windows
or other similar warning messages, Please download Microsoft Visual C++ Redistributable for Visual Studio 2017:

or

and execute it.
Visual Windows for TeX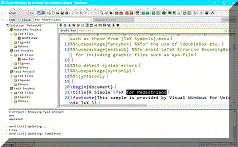 You can choose W32TeX known as one of TeX packages, which will be downloaded when Visual Windows for TeX is installed.
Visual Studio 2017

Windows 10, Windows XP (Virtual OS)
TeX Errors
TeX sometimes requires a keyboard input when errors occur but Visual Windows for TeX does not support the keyboard input during TeX. To get around this, the TeX option to
resume TeX by ignoring errors (-interaction=nonstopmode)
is employed.

Visual Windows for TeX provides an integrated TeX environment using W32TeX. Our installer VtexInst.exe can download and install TeX files. If you use other TeX such as MiKTeX (an up-to-date TeX implementation for the Windows operating system) should prepare it by yourself:

TeX files are managed by

which should be created before TeX files can be edited. There are options to automatically create a project
with/without a TeX file;
by duplicating a project from current project.
TeX file(s) can also be included in a project by
creating a new TeX file

with a sample TeX code described;

dropping an existing TeX file outside of Visual Windows for TeX;
reading an existing TeX file;
and you can
edit a TeX file
view the DVI/PDF/PS file created from your TeX file.
Our menus and tool-icons are disabled at real time if the corresponding operations are not allowed to use (as in the case, where the TeX operation is disabled because it has already run).

Other features are:
for Dviout/SumatraPDF,

jump from Dviout/SumatraPDF to the appropriate line in the source editor
jump from the source editor to the appropriate line in Dviout/SumatraPDF

to choose Greek letters, equation marks, and special symbols from the list,
to insert TeX commands from the corresponding menus,
to customize key strokes,
to list all files described in TeX files,
to jump to the line indicated by error/warning messages,
to jump to keywords,

to detect keywords such as \chapter, \section and \label and to jump to the line
to detect the relations of \bibitem-\cite and \label-\ref

to check the consistency of paired parentheses,
to use colored key words, ruler, line number,
to complete keywords by adding missing characters (intellisence),
to recover the automated backup files when Visual Windows for TeX is not regularly terminated,
to check the newer version via the Internet,
The installer for Visual Windows for TeX downloads TeX files of W32TeX and installs these files in your local computer. The TeX environment is created after W32TeX is installed. You may skip this installing if you already have a TeX system.

Network Access
When W32TeX is to be downloaded,
please allow the Windows firewall to access the W32TeX site.
Download
Please download Visual Windows for TeX for your use.
Visual Windows for TeX: (LaTeX/TeX)
| | |
| --- | --- |
| File | Description |
| vtexInstU.exe | W32TeX Installer |
| vtexw32U.dll | DLL file to dwonload W32TeX |
| VtexDDEU.dll | DLL file to comminicate with viewers |
| vtexwinU.exe | Visual Windows for TeX |
| vtexextU.exe | To Update file association (Windows Viata/7/8/10) |
| vtexsetU.exe | To set DVIOUT registries (Windows Viata/7/8/10) |
| VrexwindllU.dll | Dll file (Main auxiliary API) |
| vtexmesU.dll | Dll file (Vtexwin Messages) |
| updateU.dll | Dll File (to Update Vtexwin) |
| sysdllU.dll | Dll File (Personal API) |
| sysmesU.dll | Dll File (Messages) |
| outconU.exe | Launcher of Console Program |
| Vtextar.dll | DLL file to extract W32TeX |
| vtexwin.chm | Help (not yet available) |
| vtexwin.txt | Readme |
| psapi.dll | Dll file NT4.0 toolhelp |
| msvcr80.dlll | Dll file (98,98SE,Me) |
| unzip32.dlll | DLL file to extract Dviout zip/Updated-Vtexwin zip |
| footy2.dll | Dll file (Text Edit Control) |
| cancel.sty | cancel mark etc |
| ulem.sty | underline, double underline, wavy line etc. |
| mediabb.sty | To create bb-file for graphics in PDF(xeLaTeX/xeTeX) |
| glyphlist.txt | Adobe Glyph List |
Current version
Windows 8/8.1/10: If you encounter the [Windows Protected your PC] warning, please click [More info] and subsequently [Run anyway]
Norton file insight: If you encounter the [Norton Download Insight] screen,

and apply the following actions:
Extract the executable installer file from the zip file,
point to the installer file,
click the right mouse button that shows the [Norton file insight] menu,
[Trust] the installer file.
Windows XP/Vista/7/8/8.1/10用

vwteUTF819-130S.zip
2945608 bytes
Compressed Zip(with W32TeX, whose setup can be skipped)
Visual Windows for Unicode TeX (LaTeX/TeX/PdfLaTeX/PdfTeX/xeLaTeX/xeTeX...)
19/11/10
Execute the contained vwteUTF819-130S.exe
vwteUTF819-130S.exe
2986962 bytes
Self-Extracting Cab
Installer to update Visual Windows for TeX
[UpdateUTF8]vwteUTF819-130.zip;
2947044 bytes
Compressed Zip
Execute the contained vwteUTF819-130.exe
[UpdateUni]vwteUni19-130.zip;
2947044 bytes
Compressed Zip
date

Error/Warning/New Description

Corre8cted in

2019/11/10
The warnings such as LaTeX Warning: Reference and Package natbib Warning: Citation are still displayed even after the second TeX to update references/citations.

2019-130

After TeX is performed, the focus cannot be recovered in the editor region and the key input cannot be automatically accepted even if VtexWin backs to the active mode that allows the key input.
The menu [Recent File/Folders] is sometimes unexpectedly disabled and cannot be chosen.
Vtexwin rarely terminated during converting DVI into PDF.
Upgrade to stop TeX.
(since May 27, 2019)